The Stan Erhart Band | BIO
By way of Kansas City & Chicago to San Francisco ...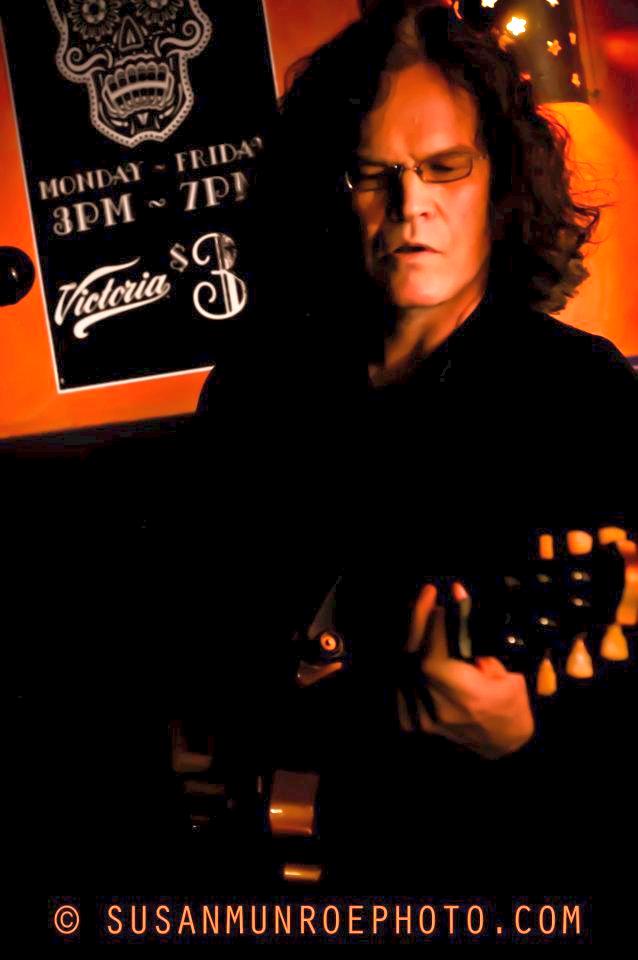 Stan's roots go back to the Kansas City farm, where tractors, country guitars, & Dad's harmonica tunes were the everyday background. As a kid, he first picked up his brother's baritone horn, followed by guitar, vocals, & woodwinds, later earning a music degree in Michigan. Long gig commutes to Chicago led to moving there to make a living at club work & private lessons, all the while working on his own blend of R&B, Rock, & Blues. Finally relocating to San Francisco, he formed one of the region's hardest working groups, playing clubs & events all over the Bay Area. They can keep 'em dancing at showcases or deliver a nice cocktail hour to the dinner crowd. The Band Dishes up Big Plates of Roots Rockin', Good Timin', Music -- With a Little of Everything on the Side!
---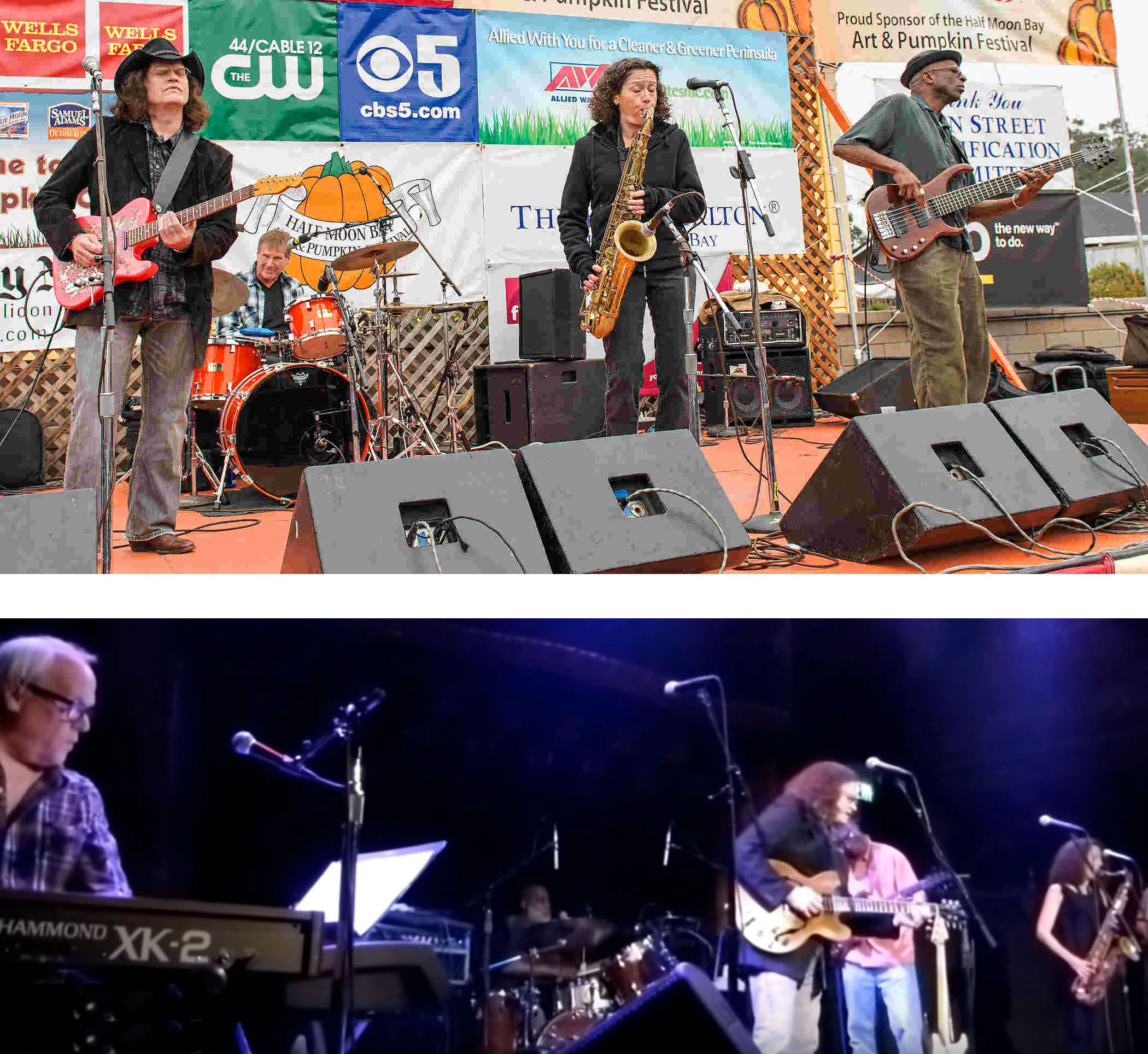 the Stan Erhart Band ...
A fun & funky mix of some of the finest musicians in the San Francisco Bay Area. This group throws down the jams, covering R&B, Rock, Blues, & Soul-Jazz classics, plus their own well crafted Originals. Tunes & genres are mixed & stirred to create the band's signature danceable 'stew'. Delivering tight energetic arrangements with great vocals is what they do best.
"Stan Erhart has a great voice, and really knows how to use tone and voicing on guitar." -- John Orr, Daily News Arts and Entertainment Editor, San Jose Mercury News
"Stan has one of the finest voices in blues. And is very skilled with the guitar." -- James Fox, Radio Host, Love Is The Song We Sing
"Soulful vocals ... scalding guitar!" -- Peter 'Blewzzman' Lauro, Blues Editor, Mary4Music.com
---
Collaborations ...
Stan performed for several years with The Metro Fountain All-Stars, a large, multi-talented group brought together by Ted Gehrke (Metro Fest founder), and led by guitarist/vocalist JC Smith. The group released a CD, performed repeatedly at San Jose's
Fountain Blues & Brews Fest
, sold out the
Villa Montalvo Carriage House
(Saratoga, CA), and closed out the
San Jose Jazz Summer Fest
Blues Stage. The All-Stars have included the following great players and singers (alphabetically by last name): Ron E Beck, Kaye Bohler, Maxx Cabello Jr, Chris Cain, Noel Catura, Little John Chrisley, Taylor P Collins, Stan Erhart, Mark Fenichel, John Garcia, Andy Just, Aki Kumar, Richard Palmer, Lara Price, Gary Smith, JC Smith, Endre Tarczy, and Ron Thompson.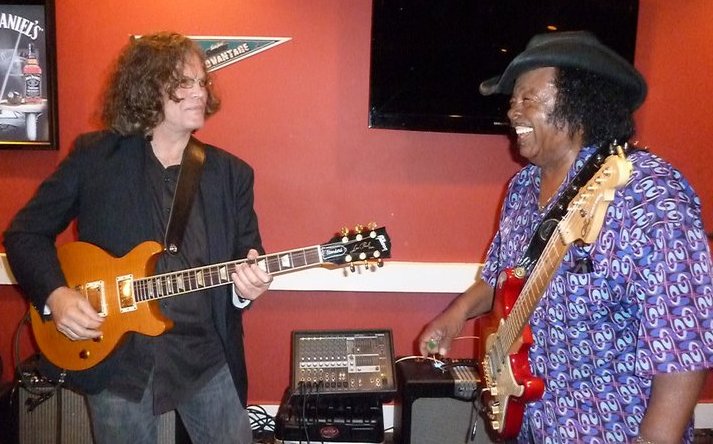 Stan has hosted a number of Metro Fest 'Before & After Parties' at San Jose venues such as the Fairmont, the Radisson Plaza Hotel, and the Clarion Hotel. These events attract some of the best bay area blues players, and have included jams with Guitar Shorty, members of a Roomful of Blues, and many other festival touring acts.
---
Working with creative musicians is its own reward, and Stan is always up for it. He enjoys a long collaboration with Michael Warren (Bassist for Merl Saunders, Leo Nocentelli, Harvey Mandel & others), and he recently released a collection of originals and roots cover tunes recorded at Garth Webber's Red Rooster Studio in Berkeley, CA. The CD features Stan on lead vocals & guitar, Michael Warren on bass, Randy Hayes on drums & backing vocals, Nancy Wright on tenor sax, Mike Emerson on keyboards, and Garth Webber's killer guitar on two tracks.
Since moving to the SF Bay Area, Stan's played thousands of gigs, hosted numerous kick ass jam sessions (including the Coastside Jam near Half Moon Bay, CA, which is one of the oldest jams in the Bay Area), has backed a multitude of musicians & singers, and continues to produce fun blow out events -- such as the long running Vets To Vets Blues Festival in Princeton by the Sea, CA. Stan was one of a long line of accomplished guitar players providing support for harp master Little John Chrisley. He was the musical director for power house vocalist Marla Goody's 'Good-N-Plenty' Band. He's produced demos for aspiring songwriters, and recorded and performed with stellar bands such as Risk! (Chicago), Eddie O'Neale (Michigan & Chicago), Lost Luggage (Chicago), and Dean Leto & My Blue Soul (SF Bay Area). He's produced/co-produced shows at iconic San Francisco venues such as Slim's and the Great American Music Hall, and he's helped with numerous musician benefits. It's been a good road so far, and there's a lot of traveling left to do.
---
Stan Erhart Band Lineups ...
Hiring great musicians makes for excellent fun. Below are some of the regulars.
Michael Warren, Bass (Leo Nocentelli [Funky Meters], Merl Saunders, Harvey Mandel)
Steve Evans, Bass (Chris Cain, Elvin Bishop, Etta James, Roy Rogers)
Pat T, Bass (US Navy Band, Stan Erhart Band)
Marc Levine, Bass (Barry Manilow, Johnny Rivers)
Gary Rosen, Bass (Amy Lou & The Wild Ones, Ron Thompson, Mark Hummel)
Randy Hayes, Drums (Dave Martin, Chris Cain, John Wedemeyer, Coco Montoya)
Robi Bean, Drums (Chuck Prophet, Steve Freund, Steve Lucky)
Damon Hope, Drums (Merl Saunders, Maria Muldaur)
Jackie Enx, Drums (Rhino Bucket, Chris Cobb)
Dennis Dove, Drums (John Lee Hooker, Mike Schermer, Lara Price)
Nancy Wright, Sax (John Lee Hooker, B.B. King, Lonnie Mack)
Noel Catura, Sax (Chris Cain, Selmer Paris Endorsed Artist)
Tony Stead, Keys (Tommy Castro, Sly Stone, Joe Louis Walker)
Mike Emerson, Keys (Tommy Castro, Elvin Bishop, Percy Sledge, Carlene Carter)
---